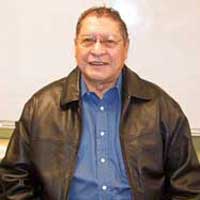 "Never Quit"
Words and music by Marianne Fridell
with Ms. Dahl's 5th Grade Class
©2012 Marianne Fridell
When I was young I worked on the farm,
pulled beets in the field, milked cows in the barn.
Had a single shot .22.
If I got my shot, we ate rabbit stew.
Mom's good cooking was our pay.
Tortillas, spices, frijoles–olé!
With our bellies filled up, we'd sing under the stars.
And play the accordion, bass and guitar.
Una vida sencilla, una vida tan Linda.
While the campfire smoke kept the skeeters away
The Montana stars in the sky seemed to sway.
Una vida muy bonita
Chorus:
Keep on going, never quit.
Keep on going, never quit.
Don't let anything stop you.
Do whatever you have to do.
A smile on your face to get you through.
'Til two a.m. I set bowling pins.
For 14 hours those balls would spin.
At seventeen I learned to salute.
I was an Air Force new recruit.
Boxing was my number one sport.
It is NOT an easy sport.
Your nose gets busted, your jaw gets broken,
and your eyes get swollen.
Chorus
I traveled across the USA.
49 states and that's okay.
I've done one thing my whole life through.
Playing music is what I do.
An apple box was my first guitar.
Later I backed up Nashville stars.
Now I play with the Twilight band.
We play for delight whenever we can.
Una vida sencilla, una vida tan Linda.
The crowd starts tapping their toes when we play.
The Dakota stars in the sky seem to sway.
Una vida muy bonita.
Chorus

Frank Leal was born in Las Fresnos, TX on January 17, 1940. He grew up in the Billings, MT area working in the sugar beet fields. Frank recalls, "Kids had to work. Work was a primary thing."
When he first started school, he did not speak any English. He learned to speak English in just four short months. This made school much easier and more enjoyable for him. He took second and third grade in one year and then tutored other students that had once tutored him.
As a child, Frank liked to hunt and fish. He had a single shoot .22. He collected bottles to earn money to buy ammo. When he was growing up, he wanted to be a soldier.
His first car was a red and white 1946 Buick Slantback, which he won lots of races with.
Mr. Leal's first job away from the farm was setting pins in a bowling alley at the age of fifteen. He worked from noon until 2:00am, seven days a week. By the age of seventeen, he had joined the military and got his childhood wish of being a soldier. He served in the Air Force during the Vietnam War as a military police officer. He also did a lot of boxing.
Frank has had many other careers during his life including a butcher, meat inspector for the U.S.D.A., school bus driver, school ESL tutor, translator, nurse, and end of life care provider. He also has done lots of volunteer work and was awarded the South Dakota Volunteer of the Year from the V.F.W.
Frank enjoys singing and playing his bass guitar with his band "Twilight". He also likes to spend his spare time reading his Bible, watching football (especially the Green Bay Packers), and driving through the Black Hills looking at scenery and wildlife with his wife, Sally Jo. He also likes to visit his son, Daniel, in Seattle and his daughter, Penelope, and her family in Jennings, Oklahoma.
Frank's advice for us is, "You must not quit! Never give up! Keep going! And don't depend on anybody else to do things for you, do them yourself with a smile on your face!"
Thank you Frank for sharing your life with us!