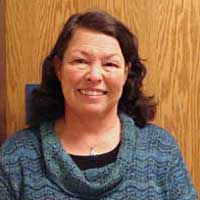 "Just Smile"
Words and music by David Lee Brown
with Mrs. Bradeen's 5th Grade Class
©2012 David Lee Brown
She started out in good old Michigan
Most of her life in good old Michigan
As a young girl she tried a lot of stuff
Horseback riding she couldn't get enough
She liked art and photography
Traveled many places we'd like to see
Colleen said the most important thing
is keep a big smile on your face
Work hard, do your best, try to improve,
and keep up the pace
And just smile, keep on smiling
For a long, long while, just smile
At Michigan State she met her husband Jim
A partner for life, she still likes him (so cute)
She liked her job. She stayed a long, long time
She liked the people. That's a big reason why
Colleen said the most important thing
is keep a big smile on your face
Work hard, do your best, try to improve,
and keep up the pace
And just smile, keep on smiling
For a long, long while, just smile
A long time friend is very special to her
Just like her cats: purr, purr, purr
Now she lives here in good old Custer
'Cuz it's so beautiful in good old Custer
Colleen said the most important thing
is keep a big smile on your face
Work hard, do your best, try to improve,
and keep up the pace
And just smile, keep on smiling
For a long, long while, just smile

Colleen Marie Hennessy was born on August 5th 1950 in Flint, Michigan. She grew up in Flint, with the exception of spending a part of her childhood in Germany following World War II. As a child she did many exciting and unusual things such as horseback riding, eating a monkey's eyeball in Africa, and shaking the Queen of England's hand. She loved art and when she was growing up she wanted to be an artist. Her family included her father, who was a doctor, her mother, and two sisters. She had a very remarkable childhood.
Colleen attended Michigan State which was 60 miles from her hometown. She finished her Master's degree at the age of 25 and went straight to work for Michigan State. She met her husband Jim while at college. They married on December 12th. They have no children, but have 4 cats. They recently celebrated their 30th wedding anniversary.
Colleen's career at Michigan State was director of activities. The student volunteers she worked with at this job inspired her to make it her career. As director she had a highly recognized program with many activities each year. She organized dances, plays, concerts, and more. This job taught her many important lessons, and she learned the importance of "catching people doing good." Later in her life she retired from Michigan State and moved to Custer.
All throughout Colleen's life she traveled. She has been overseas and to almost every state in the United States. Her many hobbies include flying in a small plane with her husband, photography, hiking, kayaking, and swimming. Colleen's retirement has been very active. She has spent time volunteering at many different organizations in Custer. She enjoys working with kids and believes giving back to the community is important.
Some advice that Colleen gave us is to always stay optimistic and find the silver lining. She also told us to take advantage of your life and work hard. If someone says you can't do something, don't listen to them, because you can. We asked Colleen if she would change anything, but she said she wouldn't change a thing because everything builds up to the person you are today. Colleen said to enjoy your life, because it only comes around once.
Our class would like to thank Colleen for sharing her life story with us and we hope she enjoys her song.