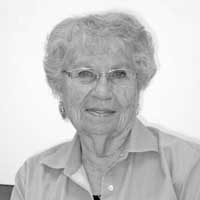 "She Is…"
Words and music by David Lee Brown
with Mrs. Miller's 5th Grade Classes
©2010 David Lee Brown
Born in a little town of Leola
An only child, she danced with her dog
She'd ride her bike for fun a long way
Sing with her friends together all day
She is sweet, she is kind,
She is joyful, a little shy
She is smart, she is calm,
She is loving, she's a mom
She could draw pictures of a brand new dress
Her mom was a seamstress, maybe the best
She played piano for herself and her friends
Music never, never, never ends
She is sweet, she is kind,
She is joyful, a little shy
She is smart, she is calm,
She is loving, she's a mom
She went to college at Moo U
Met her husband, woo, hoo, hoo
But she's not as quiet as she seems
There's still more for us to sing
A hot air balloon race she won first prize
Climbed Harney Peak at age 65
Sat on the head of George Washington
Hey, everybody she's lots of fun
She is sweet, she is kind,
She is joyful, a little shy
She is smart, she is calm,
She is loving, she's a mom

Mrs. Marj Tennyson was born in Aberdeen, South Dakota on July 6, 1926. She lived on a farm 13 miles southeast of Leola and lived there through third grade. She was an only child. But she had a wonderful dog named Teddy that she would dress up and dance with. After that her family moved into the little town of Leola. Marj's favorite subjects in school were English and Music. She played a little basketball but explained that is was much different than the game we play today. She developed a love of music and drawing that would continue throughout her life. She passed the time by riding her bike, playing water games in the nearby lake, and roller-skating. She and her girlfriends would often sing songs around the family piano.
In high school Marj developed an interest in newspaper work. She learned to read backward and upside down so she could set the type and proof the pages. She graduated as valedictorian in 1944 and attended South Dakota State for two years. She studied printing and rural journalism and helped edit the yearbook. She met her future husband Bernie while in college. They spent their honeymoon in the beautiful Black Hills. Marj and Bernie were happily married for almost 47 years and had seven children. She told us they never fought or got angry at each other. Her marriage and children are a source of great pride and joy. They are and have been the most important thing in her life.
As a family some of the things that they loved to do were taking trips, camping, and just hanging out with friends. Mrs. Tennyson believes that birthdays are very important and they would celebrate with dinner and a cake. She had a hysterical life. Lots of funny things happened. Like one time she had a bad day and backed the car right into the garage door. As she placed her head on the steering wheel, her husband came over and said, "It works better if you open the door." She told us to laugh when we can.
Marj's hobbies are sewing, drawing, and completing crossword puzzles. She enjoys music and goes to many concerts. Mrs. Tennyson hopes to continue to travel. Even after seeing all 50 states, she believes there are still special things in each of them to uncover. She would especially like to return to Hawaii someday. Lately, Marj likes to relax, watch a little television, and spend time with her 7 children, 14 grandchildren, and 16 great-grandchildren.
One of the most influential people in her life was her mom, who was upbeat and lived happily. This translated right into her advice for us which was look on the bright side. Don't let the little things bother you. And always treat people well.
We are grateful that Marj Tennyson took the time to talk with us, share her adventurous stories, and give us such great advice. Thank You, Marj!