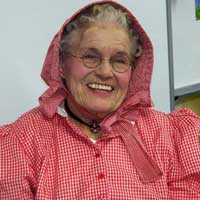 "Lila Lytle's Dance"
Words and music by Keith Burden
with Mrs. Hayford's 5th Grade Class
©2010 Keith Burden
My name is Lila Lytle. I was born in South Dakota
On a homestead close to Vivian in 1926
I tell my friends and neighbors that I'm older than Mt. Rushmore
But I'm not so old that I don't wanna learn a few new tricks
I was born a Burleson, the tenth of twelve and if you ask
How many boys and girls there were: We were all girls but six!
We all had our chores each day, but we had fun at work and play
And I sure liked to go to school with all the other kids
Papa took us in the sleigh on cold, windy winter days
And mama made that little old tarpaper shack a home
We learned to cook and sew of course, to milk a co and ride a horse
We learned to help each other and to do things on our own
Our family moved to Pringle and I well remember panning gold
To pay for the material I used to make a dress
I finished school in Cuter where I might still owe detention
Then I trained to be a teacher to help children do their best
The Lord has blessed me doubly now with two good Christian husbands
With a restaurant and a ranch, with friends and family that care
If I could share the wisdom gained from all these years of living now
I'd tell the children, "Set your goals and work until you're there"
My name is Lila Lytle and I live down Pleasant Valley
On a ranch called Herford Heaven where I wear my Carhartt pants
If God is lookin' down right now He knows I'm feelin' kind of proud
And he knows all the reason I'm so grateful for the dance
He knows all the reasons I'm so grateful for the dance.

Lila Lytle was born on January 28, 1926 in Vivian, SD. She jokes that she is "older than granite", because Mt. Rushmore wasn't started yet. As a child, she lived in a tarpaper shack. She had no running water, paper products, or electricity. She worked, played house and made paper dolls. Lila liked to joke around and was a mischievous child. She was the 10th of 12 children and in her humorous way she used to say, "We're all girls, but 6!"
Lila loved horses and enjoyed riding them while growing up. She also remembers driving at age 10. Lila loved going to school. One day, during a snowstorm, she was the only student to show up at school. The first movie she ever saw was Robinson Crusoe at age 12 in Hot Springs, SD. It cost 12 cents.
Lila's first job was panning for gold in Pringle, SD. For one whole summer's work, she earned 78 cents. Then she was a telephone operator. She wanted to go to college to be a schoolteacher, but because of the expense, she instead took a six week summer course. She passed the teacher's exam, but never got the chance to teach school full time.
In her spare time, Lila enjoys reading and volunteering. She calls herself a "cow whisperer" as she works with her all-organic cows on her ranch near Custer. She also has horses, pigs, 12 cats, and 1 dog named Lizzie. When Lila was younger, she learned to hunt and has earned a few "trophy bucks".
Lila has enjoyed traveling and has been to Raleigh, NC, Anchorage, AK, Kalispell, MT, and Tijuana, Mexico. Her favorite color is blue. Her favorite holiday is Christmas, because it is Jesus' birthday and she likes to gather with family. Her favorite food is beef, of course. She loves to cook and hasn't bought a loaf of bread in 28 years, because she bakes her own. She also enjoys driving her 1931 Model A Ford in local parades.
Lila considers herself "doubly blessed" with having had two Christian husbands, Johnny and Eldon. Lila told us she would never marry again, because she is related to "half of South Dakota" and she might end up marrying her cousin. Lila was blessed with four stepchildren. Five of Lila's brothers were in the service. Two were in the Army, one in the Navy, one in the CBs, and one in the Marines. All of her brothers survived WWII.
Lila says the scariest moment in her life was when she was thrown off her tractor and it ran over her. The doctors said she would never walk again, but she proved them wrong. Lila's advice for us is always tell the truth, trust in the Lord, eat right, and if a job is important enough to do, then do it right the first time. Lila is in the process of writing a book about her life and we look forward to reading it. Thanks Lila for sharing with us!