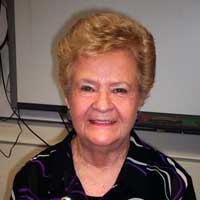 "Re-Joyce"
Words and music by Cory Tomovick
with Mrs. Black's 4th Grade Class
©2010 Cory Tomovick
My father died after he returned from World War II.
My mother raised four daughters. Oh, she was true.
She taught me to work for my community.
It was the least I could do.
The west side of the river – our home outside Fort Pierre.
I worked for a dentist – the start of my career.
I became a page for the state legislature.
It was a sign to be sure.
Chorus
Re-joyce! My door is always open.
What can I do for you?
Re-joyce! Life is a marvelous adventure
When love is true –
There's nothing you can't do.
I taught in Custer, then got swept off my feet.
Dave took me for a wheelbarrow ride down the street.
We had three great children and such a busy life.
Together, there could be no defeat.
Hazeltine Associates to President of the Jaycees.
First woman secretary in state Senate was me.
I was Secretary of State for sixteen short years.
Then, it was time to leave Pierre.
Chorus
When I retired, we came to Custer again.
With two dogs, three cats, I'm as relaxed as I've been.
Raising money for scholarships in my spare time.
I also take walks with my friends.
We have six grandchildren – we just love to see.
I'm healthy and my sisters are alive – all three.
I'm proud that I could help the people of this state.
And, now there is time for my soul mate.
Chorus
When love is true,
There's nothing you can't do….. Rejoice!

Joyce Hazeltine was born in Pierre, South Dakota. She is the oldest of four girls in her family. Her father was a World War II veteran, and he died when she was a sophomore in high school. She says her mother was marvelous! She always encouraged Joyce to take opportunities and try new things. Joyce's favorite holidays were birthdays, Christmas, and especially the 4th of July. Her first puppy was a dog named Vet. She has always had pets. Growing up near Fort Pierre, Joyce liked to be busy. She told us her grandfather was a sheriff in Stanley County, so she and her sisters played in jail cells after school!
In school, Joyce liked English the best. She says she really didn't care for math. She liked to stay after school to help the teacher. She was a cheerleader and had many jobs to help out her family. Most girls grew up to be teachers, nurses or secretaries. She chose teaching. Joyce earned scholarships and worked part time to go to college. She earned her teaching certificate at Huron College.
Mrs. Hazeltine has had many jobs during her life. She said she has liked them all! She worked for a dentist while she was in high school. That dentist (a legislator) helped her become a page in Pierre, for Hobart Gates from Custer. After college, Mrs. Hazeltine became the first kindergarten teacher in Custer. She taught 2nd grade here, too. Custer is where she met her husband Dave, who she says, "swept me off my feet". Mr. and Mrs. Hazeltine have three children: Derek, from Minneapolis; Tara Heggen from Custer; and Kirk, who passed away five years ago.
In Pierre, she started the business Hazeltine Associates and worked in several government jobs. But Mrs. Hazeltine is well known for her 16 years as Secretary of State for South Dakota. This is a job that she describes as a "Wild Job". She was very busy, got to meet many famous people, and published the "Blue Book" about South Dakota. Her goals included trying to make government more open and accessible to people. She wanted an open door so the people of South Dakota could come in to talk any time. Her favorite part was meeting people from South Dakota, other states, and from all over the world. A special day for her was attending the inaugural ball.
Some of the other activities Mrs. Hazeltine has been involved in are: starting Kids' Voting in South Dakota, State President of the Jaycees, raising money for scholarships, and being on many different boards. She has been able to travel a lot, especially as a leader in the People to People program. She has gone to Malaysia, Singapore, Thailand, Taiwan (twice), Cuba, Australia, New Zealand, Puerto Rico, and almost every state in the U.S.
Now that she is retired, Mrs. Hazeltine is happy to relax, take walks, do crosswords, play cards, go dancing, and attend her grandchildren's activities. She has three cats and two dogs. Her favorite color is purple. Mrs. Hazeltine hopes that in her life she was able to make life better for people. She said her husband and family have been her best supporters for everything she wanted to do. She has loved life so much. She says it is wonderful when people around you support you and help you do what you want to do. Her advice for us….."Just do it. Take opportunities and do your very best."
Thank you, Mrs. Hazeltine, for the opportunity to get to know you!