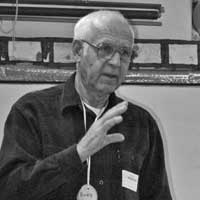 "Good Ol' Boy"
Words and music by David Lee Brown
with Mrs. Miller's 5th Grade Class
©2009 David Lee Brown
A good ol' boy named Rudy
He likes to work with his hands
He was born in a log cabin – saving nature is his stand
He told us we should do our best – make the most of yourself
Be happy in what you do
Volunteering all the time – helping others anytime
Remember to say Thank You
A good ol' boy named Rudy
He likes to work with his hands
He was born in a log cabin – saving nature is his stand
He likes cuttin' firewood, fixin' stuff, and building things
Rudy just loves wood
He takes care of the things he loves
Stands up for the things he does,
Little things lead to something good
A good ol' boy named Rudy
He likes to work with his hands
He was born in a log cabin – saving nature is his stand
A good ol' boy named Rudy
He likes to work with his hands
A good ol' boy named Rudy
He likes to work with his hands
A good ol' boy named Rudy
He's so comfy in his own skin

We interviewed Rudy Anderson and learned he was born during the month of May in 1931. There wasn't a hospital in Whitefish, MT so he was born right there in a log cabin at a logging camp by a midwife. This might explain his connection with wood.
He completed all 12 grades here in Custer. His first school was where the city pool is now. Rudy told us he got mostly B's and C's in school and once in while would earn an A. He also shared he had a reputation when playing marbles. He played for "keeps" and could come home from school with 20 marbles on a good day. He still has a jar full with his winnings. As an only child he loved to spend time outside, hiking and exploring the woods around Custer, playing sports in high school, and helping his dad. When he was 12 his dad gave him an axe. He was old enough to help his dad cut trees, pile brush, and later skid logs. It was hard work but he enjoyed it. His dad remains one of the most influential people in his life.
After high school, Rudy joined the United States Marine Corp. He served during the Korean War. Luckily he didn't have to go into combat. He worked well with his hands so he became a helicopter and jet fighter mechanic.
Rudy then went to trade school for auto body repair. It seemed to be a good match. He opened a shop here in Custer for about 4 years. He jokes now that he went to school in prison because the old trade school has since been turned into a prison. It was also where he met his wife. They had 2 children and now enjoy the addition of their 5 grandchildren.
His next job would last for 25 years. He went to work for the United States Forest Service and served in fire prevention, control, and investigation. He shared three photos with us and told us the stories behind them. The first one showed Rudy and Governor Friar, Rudy was being presented with a national award in fire prevention. The second showed a shiny robot with the name Johnny B Careful. Rudy had created him to help teach students about fire safety. He had lights that flashed and it even talked through a hidden fire fighter. The final picture showed Rudy standing with some cheerleaders and some men in suits. Rudy went on to explain that in 1969 the Hill City School wanted to use Smokey Bear as a mascot. They had been called the "Rangers" since 1939. The town had been threatened by a fire and the students had helped fight the fire. It took almost a year and even a trip to Washington DC, but Rudy made it happen.
When Rudy retired he still enjoyed working with wood. He helped build the addition on the Lutheran Fellowship Church in Custer. He also did some remodeling projects. The influence of his Dad instilled in him a desire to work with his hands and his favorite outdoor activity continues to be cutting firewood. Another passion is volunteering. He helps out wherever he can.
Rudy Anderson had a lot of great advice for us. Some of his advice was: be happy with what you do, be comfortable with yourself, help people, say thank you, take care of the environment, and stand up for your beliefs. We loved this story that reminds us to do just that. On a trip with his family a passenger tossed a bag out the window. Rudy stopped the car and asked the passenger to go back and pick it up. It worked! The person picked up his trash and didn't ever do anything like that in front of Rudy again.