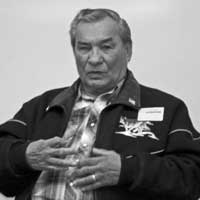 "Ordinary Guy"
Words and music by Mike Linderman
with Mrs. Hayford's 5th Grade Class
©2009 Mike Linderman
My hero was Gene Autry back when I was young
He always fought the bad guys and he always won
I joined the Army at sixteen it was the hardest thing to do
I made fifty-two jumps as a paratrooper in World War Two
I worked on a ranch and the railroad, oil fields and rodeos
Then went to Missouri and worked at building homes
The South was hot and muggy, I didn't want to stay
I got hired in Montana building homes for the BIA
Chorus:
I'm just an ordinary guy
Who put his faith in Christ and let Him guide my life
Helping people less fortunate than I
I'm just an ordinary guy
They promoted me to Kansas and an office job inside
It nearly drove me crazy I was used to working outside
Oklahoma and Nevada working with the tribes
I spent twenty five years with the BIA and decided to retire
For ten years in Nevada I built houses with my son
Then retired for the second time and came to Custer, South Dakota
And remodeled homes for free for those without the means
I'm retired again at eighty and still helping those in need
Chorus
Bridge:
Never say "I can't."
"I can't" never did anything.
"I tried" did!
Chorus
Class Chorus:
"This is what we think."
You're not an ordinary guy.
You never say "I can't"
Instead you always try.
You're still helping people late into your life.
You're an extraordinary guy.
"Thank you Mr. St. Germaine"

Al St. Germaine has lived a life full of giving! Not only has he spent time serving our country, but he has given of his time and talents to help others throughout his life. He is no ordinary guy!
Al was born in 1928 in Northeastern Montana to French/Chippewa parents. He was the youngest of thirteen children. "We had our own tribe," as Al puts it. He remembers many hand-me-downs as a child, especially always wearing bib overalls. He said he couldn't wait to grow up and wear pants with a belt.
As a child, Al's hero was Gene Autry. He liked him because he did good things and fought the bad guys. During his childhood, Al had many horses and would ride to school. He remembers one occasion when he looked out the schoolroom window, saw his horse, and decided to skip out on class and go ride. However his mother was a hard task master and didn't put up with it.
Another special memory from his childhood was Al's dog, Rover. Rover was a mixed-breed, black and white dog who would help out with their daily chores. He pulled a sled with cream cans to haul water back and forth from the creek to the house. Rover would also pull him a little over a mile to school when he was younger. He was a very hard working dog!
Al joined the Army at the age of only sixteen. He spent three years in Japan during WWII and learned to speak Japanese. He made 52 jumps as a paratrooper and had only one mishap. His parachute didn't open and when he pulled his reserve, the buckles hit him in the head. When they took off his helmet, his head really swelled up.
After leaving the military, Al started work in the oil fields. He then worked at many other jobs including the railroad, ranches, and rodeos. He eventually ended up back home, got married, and started in construction building homes. He also had four sons and later adopted a fifth. He worked for several years with the Bureau of Indian Affairs (B.I A.). After retiring, he continued in construction.
Al says the best day of his life was when he accepted Christ as his personal savior. His relationship with God is very important to him. His favorite quote is from the Bible, "Seek first the Kingdom of God and His righteousness and all these things will be added unto you." Matthew 6:33. Even after retiring three times, Al continues to use his skills to help those in need. He has helped build churches, two schools in Romania and done many other projects for people. He describes himself as just an ordinary person who loves people and likes to help them. Al's advice to us… "Never say I can't, because I can't never did anything. I tried did." Thank you Mr. St. Germaine for sharing your life with us!