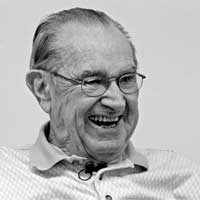 "Dreams Are Possible"
Words and music by Cory Tomovick
with Mrs. Black's 4th Grade Class
©2008 Cory Tomovick
My parents divorced. I was two, and our choices were few.
Mother worked to provide (for me) and six others too.
In wintertime kids would pile in a bob-sled for fun.
Hot chocolate, hot chili, were waiting when we got done.
I helped milk 40 cows. I still have that hand shake,
Life was hard – never thought I'd go to college someday.
Chorus
Dreams are possible – so reach for the stars.
Love your friends, your family – you'll go far.
Always tell the truth – and you won't have to squirm.
Because dreams are possible
Just a boy from Lawrence, Kansas, I didn't like to be in school.
At seventeen, I joined the Navy – South Pacific, World War II.
When the Japanese surrendered I was with my friend
We talked about the future, and the big war's end
In that moment, on that night, I decided my career.
That man and I have now been friends for over sixty years.
I began as a Buck Ranger, while I got my G.E.D.
Married Wanda, finished college- worked at Parks in this country.
Fifty-nine years ago I married my bride
Through all the decisions, she's been by my side.
Raising three kids – the most important job I've ever done.
Raising kids well (is what) this country's based upon
Bridge:
There have been moments in my life I could not see the path to my dreams,
But the love of good friends and my family has guided me
I've been a part of beautiful treasures in this country –
Grand Coulee, Mount Rainier, Craters of the Moon,
Yosemite, Statue of Liberty, and Wind Cave, too –
Because dreams are possible

Les McClanahan was born on February 10, 1927. He was an only child. There wasn't a lot of money in his family when he was growing up in the 1930s. He remembers having lots of fun as a child. He made model airplanes and raised tame rabbits. He went bobsledding and played with his friends under the street lamp by his house. On Sunday afternoons, his grandmother liked to go for drives in the country and visit people he didn't know. Mr. McClanahan thought that was boring. Now he thinks it's funny that he likes to do the same thing! He worked hard. When his family moved to the country, he milked 40 cows a day. He said people were afraid to shake his hand – because of his strong grip!
In 6th grade, Mr. McClanahan figured out he liked to sing. His favorite subject was mathematics, but did not like to study. He was outgoing and liked to talk a lot. Sometimes his teacher had to tell him to be quiet in class. Growing up, he wanted to become an FBI agent. But when he found out you had to have a college degree, he dropped that idea. He figured he would never get to go to college. At age 17, Mr. McClanahan quit school and joined the Navy during World War II. His favorite place he went during the Navy was the island of Mog Mog.
When World War II ended, Mr. McClanahan decided he wanted to become a national park ranger. He finished his G.E.D. when he was 20 years old. Then he went to college at Colorado A and M and graduated from the University of Kansas. After the Navy and college, he started his career with the National Park Service. He has worked at many places, including: Lassen, Sequoia, Grand Coulee Dam, Mt. Rainier, Craters of the Moon, Yosemite, and The Statue of Liberty. He moved to Custer in 1969 and was superintendent of Wind Cave National Park – his favorite. Mr. McClanahan said the best part of his job was working with people. He also said the hardest part of his job was working with people.
Mr. McClanahan married his wife, Wanda, almost 59 years ago. They have three children: Mike, Pat and Neysa. He thinks that raising his kids is the most important job he had. He says it is important for our country to educate our children.
Mr. McClanahan retired from the National Park Service in 1983. He now likes to travel and says his favorite place to visit has been Prince Edward Island. Maybe someday he would still like to visit Australia. Today, he is on the Board of Trustees for the 1881 Courthouse Museum and the Custer County Library. He likes to do woodworking and wood carving. He brought in wooden roses he had carved, and they were beautiful! He delivers meals on wheels and likes to volunteer wherever he can in our community.
Les McClanahan said he thinks being honest is important. He wants people to remember him as someone who is dependable and always tells the truth. We think Mr. McClanahan is a very modest man.