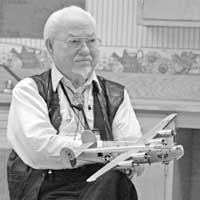 "I've Served, I've Served, I'm Chuck Mateer"
Words and music by Hank Fridell
with Mrs. Fennell's 5th Grade Class
©2008 Hank Fridell
They called me "Flame" with my hair so red, in a bomber I learned to fly
So you'd think I'd be a wild man but I'm a live-and-let-live guy
Some guys never had much luck, no matter how much they'd wish
But I'm lucky, I've got a scent that trout like. Oh, how I like to fish
(chorus)
I've been a father, a pilot, an engineer
I've been a husband, a veteran and a volunteer
Elected to office, a distinguished career
I've served, I've served, I'm Chuck Mateer
I was a pilot on a B-24, a crew I did command
Seventeen bombing runs over Europe in my plane "Custer's Last Stand"
The bombing runs were so dangerous when the bombardier eyed his goals
We couldn't take evasive action. Messerschmitts filled us with holes
(chorus)
I served my country as a bomber pilot and for my state, laws I made
I served my community as an engineer but for the government taxes I paid
I've known flying aces and governors. We went through thick and thin
South Dakotans are good solid people. They have solidness built in
(chorus)
(bridge)
Kids, pay attention to your elders and study in school
Join clubs with kids your age and get involve with social things
It's where you'll get your basic training for life
It's how you'll start to spread your wings
(chorus)

Chuck Mateer has led a very interesting life! He was a pilot in WW II, met President and Mrs. Coolidge, was pilot for two governors, and was a state legislator for the state of South Dakota. He has done even more than that. He isn't just any ordinary person!
First, let us tell you about his childhood. Chuck was born in Rapid City, South Dakota, in February of 1922. He was raised on a ranch near Hermosa and had many chores. Chuck has one sister and two brothers, he being the 'runt of the litter'. He went to grade school in Hermosa and high school in Custer. 'Girls' was his favorite subject in school. In the spring and fall he played softball and in the winter he played basketball. There was always a friendly rivalry between the small towns. Chuck's favorite toy as a child was his ice skates. Also, in Chuck's time, movies at the Elks Theater cost $.25 for students and $.50 for adults, and gas cost $.15 per gallon.
Also, we would like to tell you about some of Chuck's fun and interesting childhood experiences. While President Coolidge was at his summer home in Custer State Park, he would attend church in Hermosa. When Chuck was five years old, after church one day President Coolidge invited the congregation to a picnic at the Game Lodge. At the picnic they decided to take a picture and because of Chuck's red hair, Grace Coolidge asked him to stand right in front of her, even though the picture was in black and white. By the way, Chuck's nickname was "Flame". Some of the other activities he enjoyed included ice skating, making homemade ice cream, fishing, and playing card games such as Whist, 500, and Bridge.
After high school Chuck went to South Dakota State College in Brookings for a couple years. At the age of 20 he went into the Air Force with his friend Ray Chard. Chuck became a pilot of a B-24 and named it 'Custer's Last Stand'. The plane also had a picture of Custer on each side. Chuck knows a lot about B-24s and he says they were a rugged plane. He flew 17 bombing missions in Europe over Germany, Czechoslovakia, and France. He says 'he has been shot up but never shot down'. After one mission he had 116 holes in his plane, and his worst memories are of combat.
After the war, Chuck finished his engineering degree at the School of Mines in Rapid City. He lived in Rapid City, Pierre and Belle Fourche. For seven years he was hired by Governors George Mickelson and Sigurd Anderson as their pilot. He worked as the City Engineer for Belle Fourche for many years. He was also good friends with Joe Foss, a WWII ace pilot. He learned from these people 'that if you are raised in South Dakota, you have solidness built in'.
Chuck describes himself as a 'live and let-live' type person, but when he was in high school he pulled a prank with a wagon, which he disassembled, moved the pieces to the top of the school and reassembled it. He then was told by the school administrator to dismantle it and put it back on the ground. He says he is not a prankster, however. He loves to hunt deer, antelope, and most of all pheasant. His first car was Model T Ford and he now has a Park Avenue Buick.
Other interesting things about Chuck are that he served as a state legislator for ten years and he owned his own plane for years. He used it for transportation to and from the many aviation board and commission meetings he participated in. In 1996 he was inducted in the South Dakota Aviation Hall of Fame. His plaque is in the Air and Space Museum at Ellsworth Air Force Base in Rapid City. Chuck's love of flying has lived in him his whole life.
Chuck was asked if anyone has really made a difference in his life. He said, "Yes, my wives have. I've been blessed twice". Chuck has also been blessed with four children, three girls and one boy. He wishes he could see his children more often but they are all over the country. Chuck's best memories include time with his family and friends.
Finally, Chuck has some advice for us. The secret to being a good fisherman is that you have to have the right scent on your hands. "They like my scent," he says. His words of advice to kids are, "Pay attention to your elders. Do good schoolwork. Get involved in social things; join clubs, and interact with kids your age. That is where you'll get the training for your life to come." We will take his advice! Thanks Chuck!