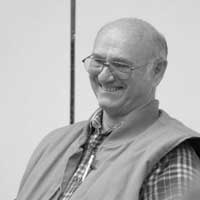 "What Ed Sedlezky Does"
Words and music by Cory Tomovick
with Mrs. Black's 4th Grade Class
©2007 Cory Tomovick
My Grandpa and Grandma Sedlezsky fled from East Prussia to the Ukraine.
Then Grandpa came alone to America, but never would you hear him complain.
He came to South Dakota to a town called Menno.
When only two words of English did he know.
Two years later he sent for his wife.
Together they built a foundation for life.
So, if you think you've got it rough,
Like Grandpa and Grandma….you're made of tougher stuff.
(chorus)
Smile…it does not hurt.
Frowning takes much more work.
We're here to help each other each day.
That may be weird, but that's okay.
Because…..
That's what Ed Sedlezky does.
My father was a farmer near Freeman.
He was also a very wise man.
I always wanted to work beside him.
From the beginning that was my plan.
I turned down a job, father said with a smirk.
He'd take the job 'cause we needed the work.
That's how I started with the phone company.
Before too long, my brother worked with me.
Sometimes in a blizzard, the job wasn't fun.
But I liked helping people. That meant a job well done.
I only spoke German as a child, then I grew up to be very shy.
But my wife was much quieter, so I had to get louder and try.
Our children were named after grandparents each one:
Amelia, Nicole, Lydia, and Leon, our son.
The best day I've had was when I married my wife.
It was the best decision in my life.
She has trouble walking. I am making her a cane.
Traveling side by side we shall always remain.
(bridge)
Life's too short to be serious!
Laugh each day. Stay curious!
When it's all said and done,
I want my song to be fun!

Ed Sedlezky was born in an apartment above a grocery store near Freeman, South Dakota. He spoke German until he went to school. He remembers that his parents spoke English when they did not want the kids to understand what they were saying. He says he grew up on a farm in a good family. He had two sisters and one brother. He was short and had brown hair.
Mr. Sedlezky attended a country school for his first eight grades. He said, "We learned how to get along with the children in the other grades. The older students helped the younger ones." He remembers playing softball, kick the can, building snow forts, and having snowball fights. A special memory is when his father brought them to school with the tractor and trailer after a huge snowstorm.
After Mr. Sedlezky graduated from high school, he entered the Army. While he was in the service he volunteered to be a Santa's Helper at a German orphanage. He always hoped to be a farmer like his father, but after the Army, he was offered a job with the telephone company. He says the best part of his job was helping others. His boss told him, "When you stop learning, you're no good to me or yourself." Mr. Sedlezky has always valued education for himself and his family. His least favorite part of the job was climbing the telephone poles, especially in blizzards. After he retired in 1992, he has done other jobs helping people, including driving the bus for area students and senior citizens.
In 1967, the telephone company brought him to Custer where he met his wife, Yvonne. They have three daughters, one son, and six granddaughters! Family has always been very important to him. He grew up in a family that he described as "full of high jinks and mayhem". He also said his family was one that cared for other people. His grandmother, who lived to be "one month shy of 100" was very important to him, but he says "every person is important."
Mr. Sedlezky is always helping others. Hobbies he enjoys are making jewelry, rock collecting, woodworking, and spending time with his wife. He still continues the tradition of being Santa's Helper here in Custer. He says he would still like to do some more traveling, especially to visit their children. Maybe some day he'd like to go to Sitka, Alaska. When we asked him what he wants people to think of him, he said, "I'm a Christian. Also, I don't like to make people sad." He said, "It's good when you laugh. Life is more pleasant when you're happy." Our visit with Mr. Sedlezky helped us feel happy.