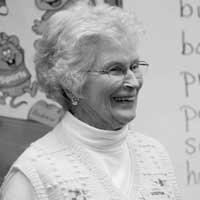 "I Can Help You"
Words and music by Hank Fridell
with Mrs. Wilkinson's 5th Grade Class
©2007 Hank Fridell
(chorus)
Whatever life threw at me, I said, "I Can"
With determination, ingenuity I've made my plan
And if you would ask, I would help you too
I can do it, you can too, I can help you
Mrs. Goodwin was strict, scales, arpeggios and chords
And we paid her in eggs, it was all we could afford
It wasn't easy, but I studied what I was taught
And I loved the beauty my music brought
(chorus)
I saw that the kids who had trouble following rules
Were the ones who had trouble learning in school
The learning disabled I was determined to teach
It wasn't easy, but I knew those kids I could reach
(chorus)
(bridge)
Why do things happen like they do?
Why do things happen like they do?
Whether helping a truck driver learn how to read,
Or taking in stray cats that no one seemed to need
Or sharing Friendship Cake, just a piece or two
Oh the joy it brings me, to bring joy to you
(chorus)

Dorothy Foreman was born November 12, 1924 in Bremerton, WA. When she was three and her sister, Louise, was five her mother passed away. Then they moved to Kansas to live with her grandparents. Sometime later the sisters moved to Howard, Kansas to live with their aunt and uncle, Clay and Nora Reems. She lived there until she went to college.
In Kansas she lived on a farm on a hill. At the bottom of the hill was a river. Her sister and she loved to fish and they caught a variety of them. Every morning they went down to Elk River to check the trout line. Some winters they ice skated and went sledding down the hillside. When she was young living on the farm she always went barefoot in the summer. When people left cats beside the road the girls took them home. At one time they had 21 cats, but only one could be an indoor cat.
Some of Mrs. Foreman's favorite early memories include having a boyfriend in first grade. She also remembers baking her first disastrous batch of oatmeal cookies. She put in way too much shortening because she thought 2/3 cup meant 2 or 3 cups. When she was taking piano lessons she couldn't chew gum. Her teacher said that gum chewing girls were like cud chewing cows.
Mrs. Foreman went to elementary and high school in Howard, Kansas. After high school she went to Cottey College for Women in MO. She finished at Yankton College with a degree in Biology and English.
In her senior year at Yankton College Mrs. Foreman met her husband, Fred. He was in WWII and was in the Battle of the Bulge. When he returned he enrolled in Yankton College. They were married on December 29, 1946. Mr. and Mrs. Foreman just celebrated their 60th wedding anniversary. They had three children: David who was born on Christmas, Jean named after Clemejean (Mrs. Foreman's mother), and Bryan, the youngest.
Later in her life when she had a job as a receptionist at a middle school she noticed the same boys were always at the principal's office. She realized they were having trouble learning. Mrs. Foreman then decided to go back to school to get her Master's in Learning Disabilities.
Mrs. Foreman started her career teaching in Watertown. After that her husband and she taught in Bonesteel, SD. She also taught at the Youth Forestry Camp in Custer and in the Adult Education program and with the Literacy Council. Even though she retired, she is still involved with education. Mrs. Foreman has helped many people to read.
Some favorite things to do in her leisure time are: crosswords, Sudoku, fishing, cooking, reading, scrabble, and working in her garden. When she goes fishing she loves the freedom it gives her. She is a lady that enjoys catching, cleaning, cooking, and eating the fish. Mrs. Foreman is also in touch with nature and likes to watch the birds and deer.
Mrs. Foreman taught us many things. She taught us that if things aren't just right, "Use your ingenuity." She believes that it is important to have friends of all ages. Mrs. Foreman brought joy to us and taught us the value of education. Her advice was "I can." Whatever life throws at us, say, "I can!!!"