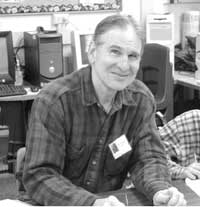 "Lend a Helping Hand"
Words and music by Mike Linderman
with Mrs. Scragg's 4th Grade Class
©2006 Mike Linderman
I grew up and went to school in the middle of Ohio
My parents and my teachers taught the lessons that they knew
Morals and religion, respect for other people
Honesty and fairness are the values I still use
I went on to college and studied pharmacy
Then I got a Masters and then a Ph. D.
I liked education so I became a teacher
To pass along my knowledge and advice that I believe.
(chorus)
Study hard. Take advantage of your schooling
Do your best at what you're doing
With the talents that you have
Get along. Show you care and take an interest
A good word can make a difference
Always lend a helping hand
For over 30 years I helped young men and women
Grow into professionals who help in other towns
My students now are pharmacists all over South Dakota
It's one of the accomplishments of which I am most proud
I'm 65 years old and been in school for all but seven
I now study history and archeology
And volunteer in classrooms teaching math to grade school students
To pass along my knowledge and advice that I believe
(chorus)
People are like sea shells
The same as they may seem
Look a little closer
And each one is unique
Just like you and me
(chorus)
Show you care and take an interest
A good word can make a difference
Always lend a helping hand

Gary Stephen Chappell was born in Marion, Ohio, in 1940 to Luis and Dorothy Chappell. He was the oldest of 3 children. His family moved to a farm near the small town of Caledonia when he was 5 years old. He enjoyed playing outdoors in the woods by his house.
School was much different for Gary than it is for us. His classrooms didn't look anything like ours. The desks were attached to each other and were in straight rows. The school was very small and often two grades were combined into one room. Mr. Chappell was in a lot of these combination rooms and was usually in the younger grade of the two. This was an advantage because he was able to learn from the older students. Math and science were his favorite subjects. In fact when he was in first grade he was one of the first to count to 100. Since his school was smaller, when he was in about the fifth grade he was able to help other students who didn't understand.
He met the person who would become his wife when he was in the fifth grade. She was his best friend's cousin. When they met, his friend warned him, "Watch out, she scratches." They were married in 1962 while in college. They have three children: Kimberly, Stephen, and Melissa, and three grandchildren. Gary shared his love for the outdoors with his family by taking many camping trips across the United States during summer vacations.
In high school Gary worked for a farmer for about one dollar an hour. While going to college he worked as a pharmacy intern. He considered joining the navy as an officer to study engineering, but he was not accepted into the program because he didn't have 20/20 vision. He decided to become a pharmacist so he could help more people. He continued with his education and later became a professor to teach pharmacy students.
While he was teaching, he was awarded the Student Advisor Award by the American Pharmaceutical Association. This was a big honor for him, and he was proud to have been selected by his students. When he received his award he gave a speech to over 1,000 people.
One of Mr. Chappell's hobbies is studying history and archaeology to find out where we came from and how we got here. His studies got him interested in the Mountain Man Era. He tans hides and makes the clothing that fit in this era. He and his wife have attended several rendezvous and hunt with muzzleloaders. His favorite person to go hunting with is his wife.
Mr. Chappell is known for helping others. He has helped build houses in Pine Ridge and Eagle Butte with Habitat for Humanity. He has traveled to Nicaragua and Africa with his church group helping in those countries. In fact he has just returned from one of these mission trips. We remember him as a super volunteer in our classroom!